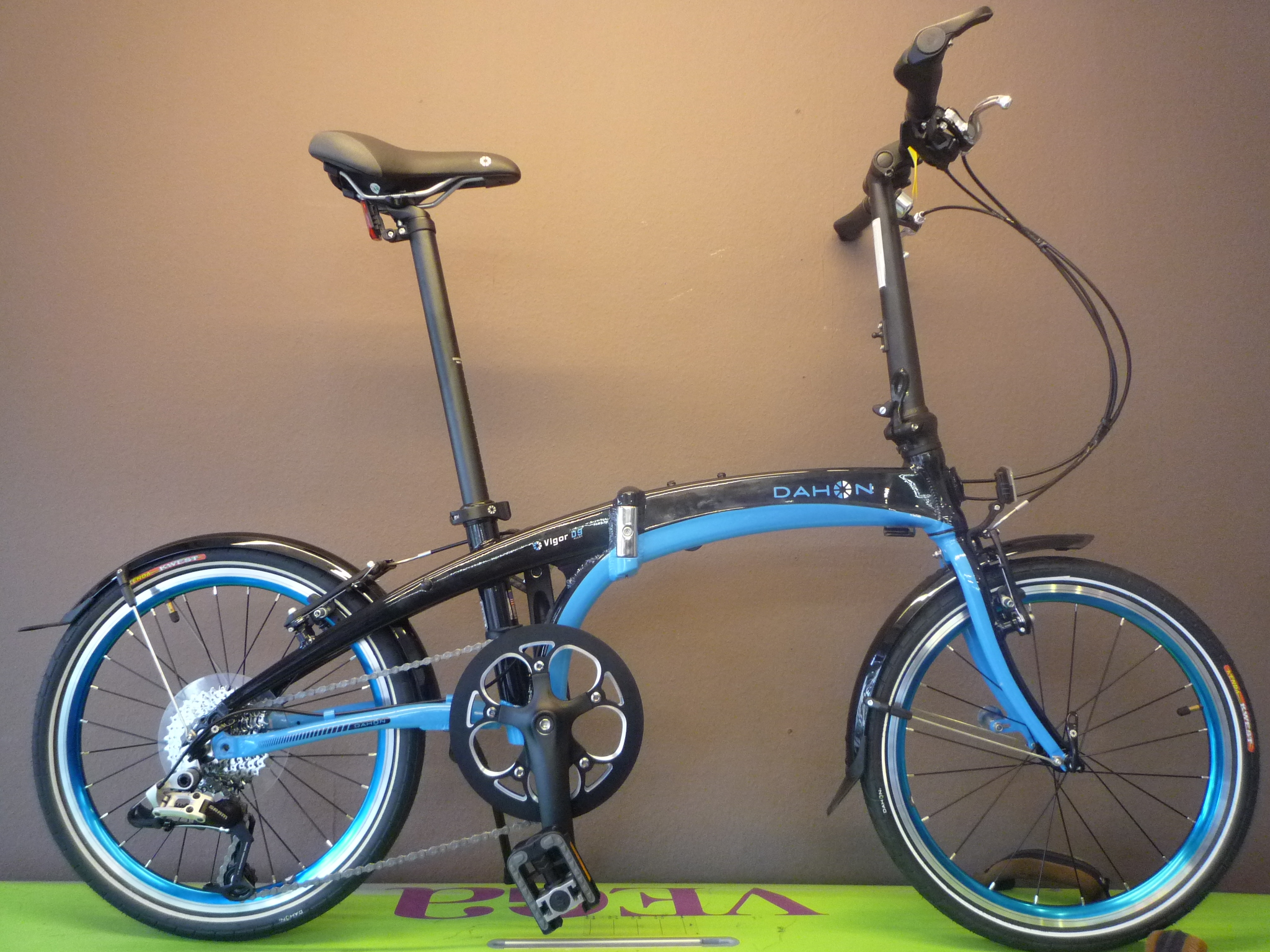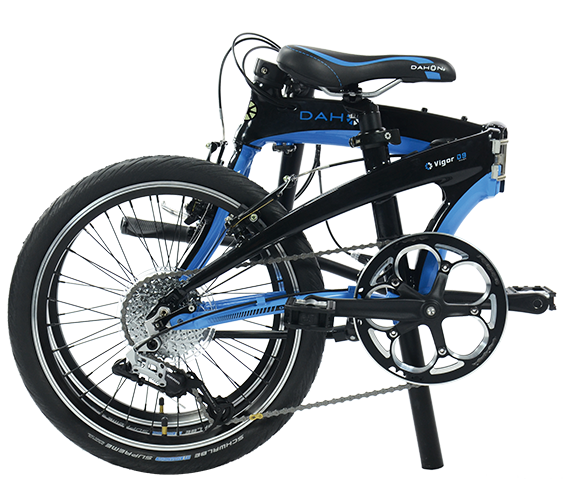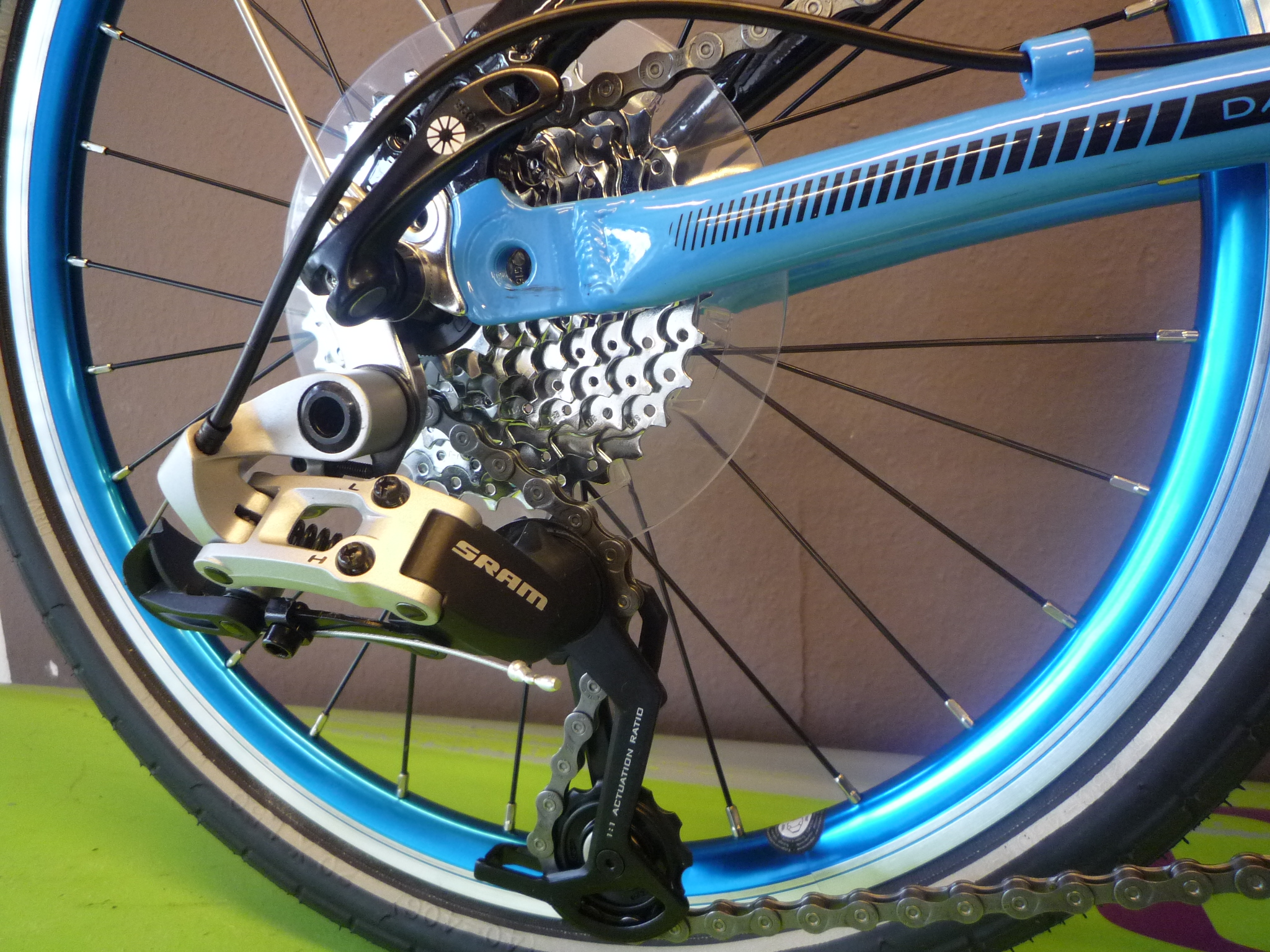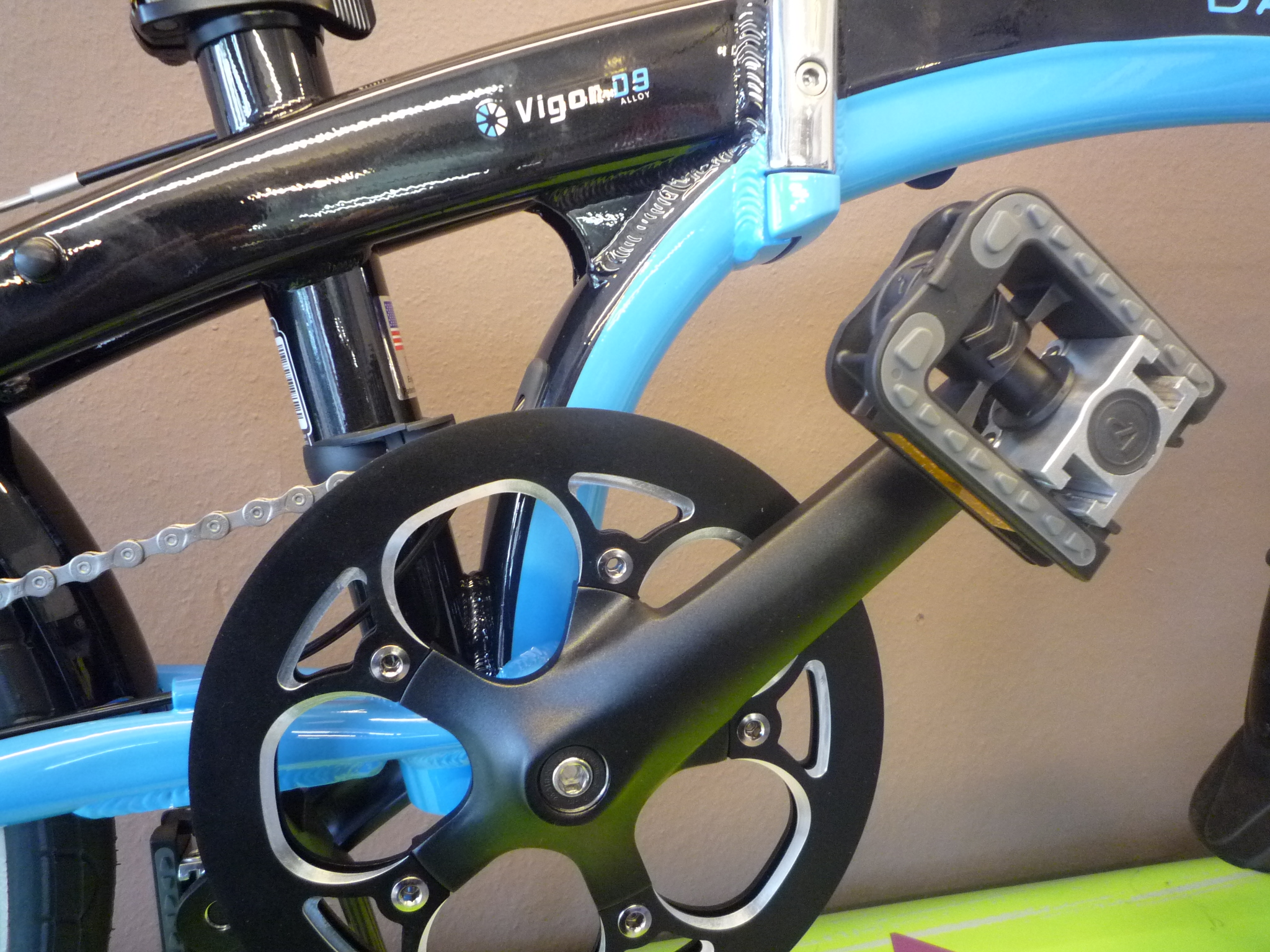 Specifications
Wheel Size : 20″
Weight : 11.7 kg (25.8 lbs)
Folded Size : 66 x 34 x 81cm (26" x 13.4" x 31.9")
Model No : ECA093
Frame : Hydroformed Dalloy with Lattice Forged Hinge and V-Clamp Technology
Fork : Lightweight and Responsive Dalloy Aluminum, w/Integrated Crown
Handlepost :Radius T, Patented Fusion and V-Clamp Technologies,Forged Aluminum, Custom Designed for DAHON DoubleButted System
Drivetrain : 9-Speed SRAM Short Cage Rear Derailleur and Trigger Shifter
Wheels : 20″ Aluminum Rims with 20 Hole Front and 28 Hole
Brakes : Winzip Smooth and Powerful 110mm V-Brakes
Rider height : 145-195cm (4'9″-6'5″)
Max Rider Weight : 105kg (231 lbs)

451 MM WHEELS

DAHON´s 451 mm wheelset raises the bar on compact wheel performance. Our larger diameter wheels are faster than standard folding bike wheels and lighter than full size wheels. This powerful combination gives a ride that is unparalleled in the folding bike market and bridges the gap between performance road bikes and folding convenience.

ALUMINUM

Patented Dalloy Aluminum offers 20% more frame strength than those made of 6061 aluminum.

Double-butted Dalloy tubes are thicker at the ends – where welding takes place and stress is highest – but thinner toward the center to minimize weight.

COMPACT FRONT HUB

The bracing angle of the spokes changes when a rim is made smaller. When a standard 100 mm hub is laced into a 20″ or 16″ rim, it results in a weaker wheel. To remedy this, DAHON pioneered the compact FrontHub: optimized bracing angles are now stronger than comparable 26″ wheels.

DAHON FRAME GEOMETRY

Starting with the very first DAHON over 30 years ago, the aim of our designs has always been to provide a great ride, not just folding convenience. Our frames have evolved over time of course. DAHON Frame Geometry finely tunes the placement and angle of tubes and components to overcome the problems of smaller wheels and longer stems that most other folding bikes suffer.

FLATPAK

Think of the easiest, fastest way stow your bike and you get « Flatpak ». Bicycles equipped with Flatpak need no tools, and the user-friendly stem allows the handlebar to rotate 90°. The brake levers are exceptionally thin and the release levers respond to a flip of the wrist. Paired with one of DAHON's patented folding pedal designs, you get a bike that goes from 3-D to 2-D in minutes, storing almost completely flat. The narrowest space becomes your bike's « garage », with no one getting caught on protruding parts, pedals or handlebars.

FUSION TECHNOLOGY

In order to fold down into a compact package, our bikes feature extended stems with great adjustably for various rider heights. But this kind of stem needs specialized technology to make it strong and stable. DAHON came up with Fusion, a patented and refined arrangement that fuses frame, fork and handlepost into an unyielding unit that won't let you down.

HYDROFORMING

Although we still love our traditional, drawn tubing (the workhorse of most of our folding frames), for a couple models we take advantage of the most up-to-date technology in metal forming. Hydroforming allows alloys to be manipulated into custom shapes, that if done right end up lighter and stronger than tubular construction. The process uses high-pressure hydraulic fluid to fit metals to a mold.

LATTICE FORGED HINGE

Those in the know understand that a folding bicycle's success lies mainly with its hinge. We devoted years of RnD to refining our lattice forged hinge. The end result is feather-light but a heavyweight in strength and performance. DAHON achieves this through cold forging and CNC tooling, including stainless steel and brass components to stand up to all weathers and wear and tear.

MAGNETIX TECHNOLOGY

Folding bikes need something to hold the wheels together when folded. Our patented and elegant solution is Magnetix, a pair of magnets to keep things in their place.

V-CLAMP

This hinge takes advantage of the theory that greater surface area contact makes for greater stability. Incorporating stainless steel and brass brushings for long-lasting performance, we engineered a sturdy steel plane that is solid as a rock when closed. For the best in folding bike hinges, look no further. This technology is found on DAHON's high performance bikes.
Marque :
Type : Pliable/woufiets/folding bike
Prix : €999
Vélos neufs