e Trekking 5.5 SEH 26″/45cm. made in Germany Nieuwe fiets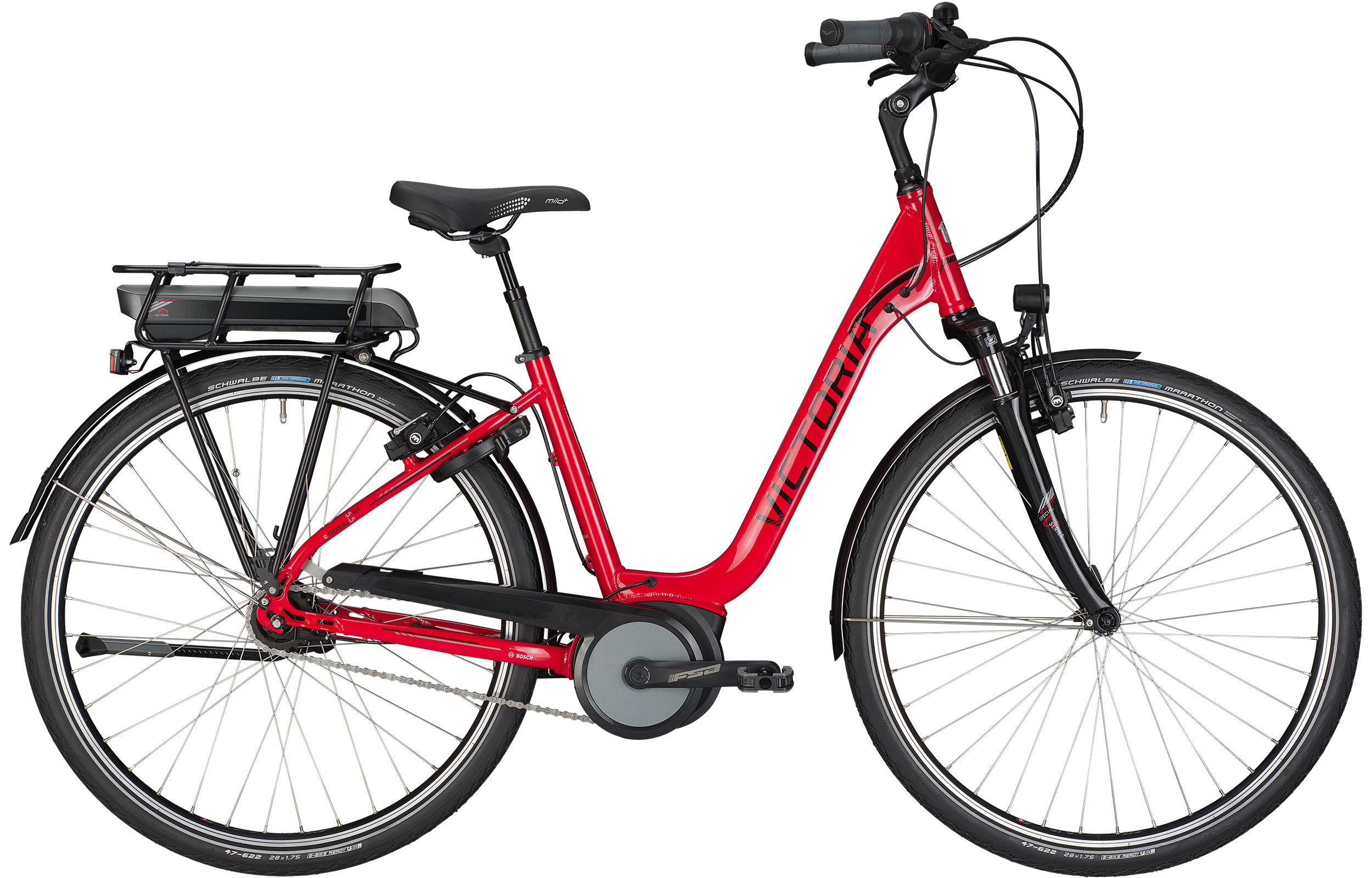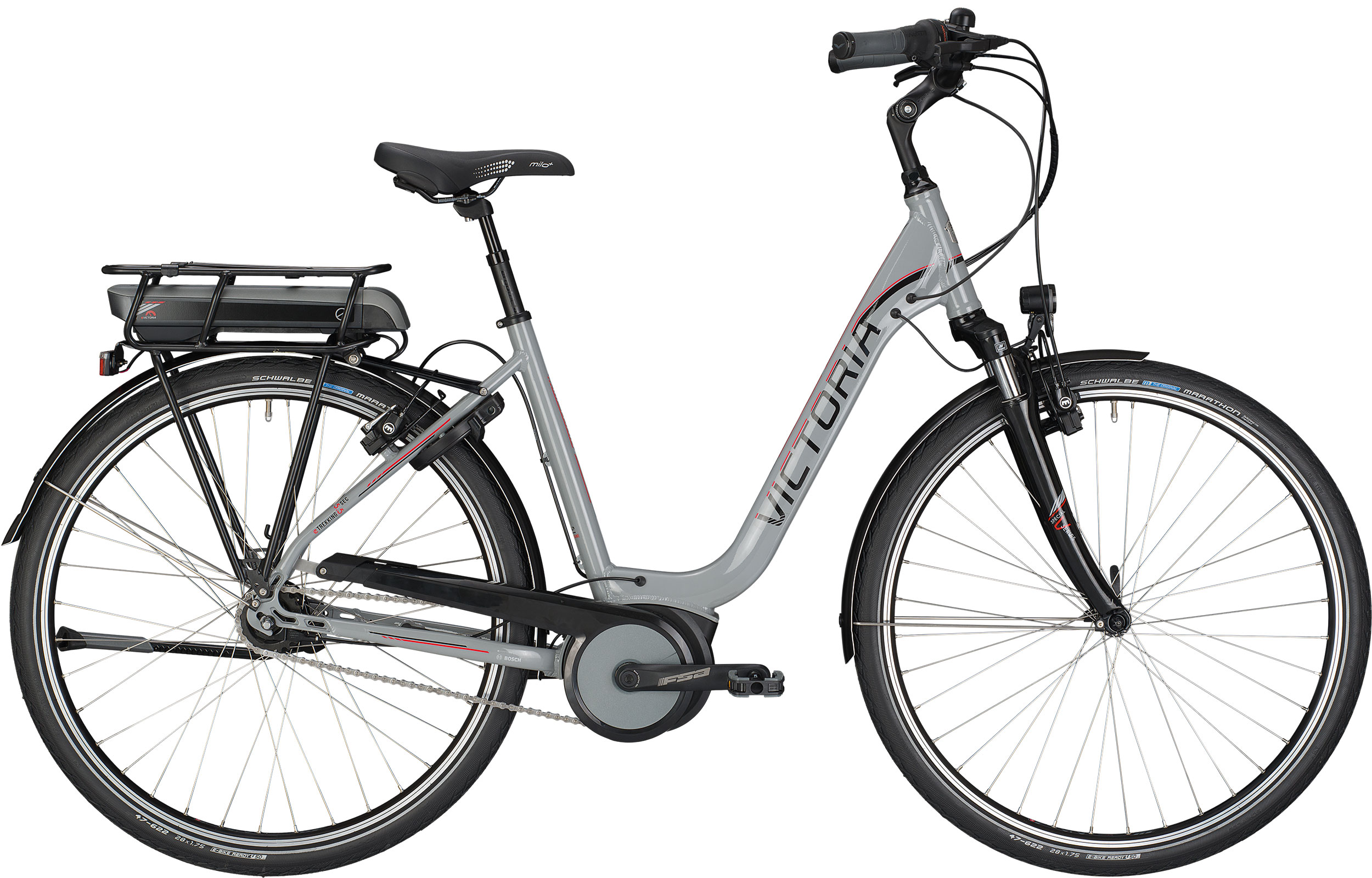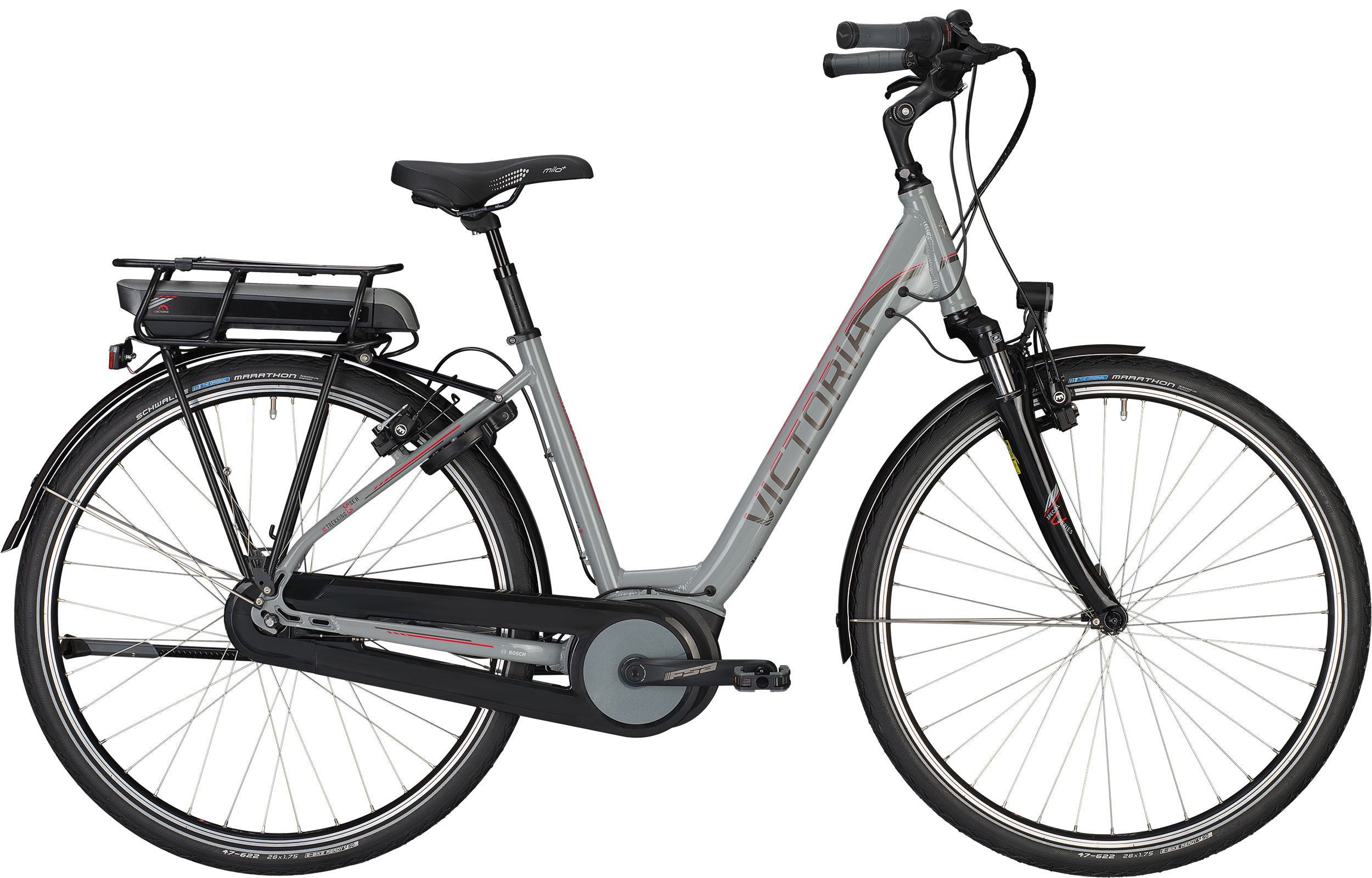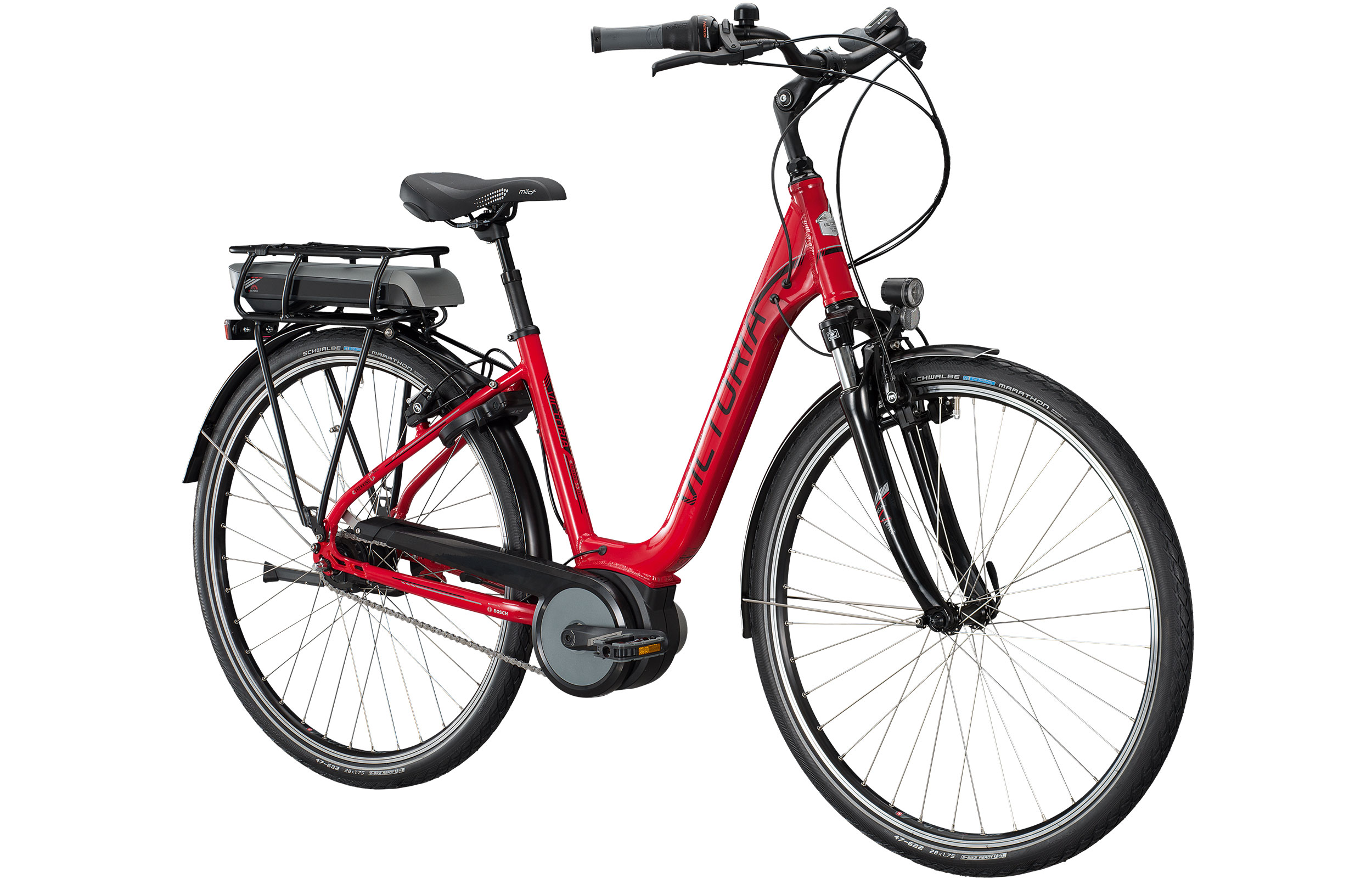 Active Line( français)
La gamme Active Line de Bosch est la motorisation idéale pour tous ceux qui veulent arriver à leur destination plus rapidement et en toute décontraction. Grâce à une assistance au pédalage parfaitement dosée jusqu'à 25 km/h, vous bénéficiez d'une autonomie accrue et d'un plaisir de rouler encore plus grand. Qu'il s'agisse d'une promenade à la campagne, d'aller faire vos courses ou d'une excursion avec vos amis.
Assistance optimale
Le système à 3 capteurs intelligents de l'unité motrice effectue ses mesures plus de 1 000 fois par seconde pour une assistance optimale et un déploiement harmonieux de la puissance.
PowerPacks
Les PowerPacks de la gamme Active Line sont disponibles en 500, 400 et 300 Wh en tant que batterie pour cadre et pour porte-bagages. Le nouveau système DualBattery double l'autonomie.
Assistance parfaitement adaptée
Une puissance proportionnée de manière optimale à chaque occasion : pour les excursions et plus de mobilité au quotidien jusqu'à 25 km/h.
Séduisant
Le design des systèmes VAE de Bosch a été récompensé par un Red Dot Award.
Usure plus faible
La détection des changements de vitesse de l'unité motrice Active Line ménage les composants et permet de rendre les changements de vitesse plus fluides.
La polyvalence incarnée
La gamme Active Line est disponible avec un dérailleur ou un moyeu. Fonction rétropédalage disponible avec un moyeu.
Couple maximal
Un couple supérieur pour une assistance plus présente lors du pédalage.
Moteur maximal
Une assistance supplémentaire pour arriver à destination avec un confort inégalable.
Drive Unit
Une assistance parfaitement adaptée jusqu'à 25 km/h pour plus de mobilité au quotidien.
La gamme Active Line est disponible avec la fonction rétropédalage.
Pour une autonomie optimale
Des batteries à l'efficacité remarquable 
Pour que votre plaisir de rouler soit le plus grand possible, les PowerPacks au lithium-ion disposent d'une densité énergétique inégalée sur le marché pour un poids et des dimensions aussi réduits.
Manipulation ergonomique
En tant que batterie pour cadre ou pour porte-bagages : retirer les batteries pour les charger à la maison ne pose aucun problème. Vous avez également possibilité de recharger les PowerPacks directement sur le vélo.
Stocker simplement et recharger rapidement
Les batteries lithium-ion modernes de Bosch ne souffrent ni d'effet de mémoire ni de décharge spontanée. En fonction du chargeur et de la capacité des PowerPacks, vous pouvez charger vos batteries à moitié en environ 2 heures.
Durée de vie étendue
Le gestionnaire optimisé de la batterie (GOB) offre la meilleure protection possible contre la surcharge, la sous-tension, la surchauffe et le court-circuit ce qui permet d'obtenir une longue durée de vie pour vos batteries.
Active Line(Netherlands)
De Bosch Active Line is de ideale aandrijving voor iedereen, die meer ontspannen en sneller op de bestemming wil arriveren. Met een perfect gedoseerde trapondersteuning tot maximaal 25 km/h geniet u van meer rijplezier en actieradius – bij een rit door de natuur, bij de boodschappen of bij de volgende fietstour met vrienden.
Voor de optimale actieradius
Eenvoudig opslaan en snel laden
De moderne Bosch Lithium-Ionen-accu's kennen noch Memory-effecten nog zelfontlading. Afhankelijk van de oplader en het PowerPack laadt u uw accu in ongeveer 2 uur voor de helft op.
Lange levensduur
Het batterijmanagementsysteem (BMS) biedt de best mogelijke bescherming tegen overladen, onderspanning, oververhitting en kortsluiting en verlengt bovendien de levensduur van de PowerPacks.
Uitstekende accu-efficiëntie
Voor uw zo groot mogelijke rijplezier hebben de Li-ion PowerPacks aantoonbaar de hoogste energiedichtheid bij de geringste afmetingen en het laagste gewicht op de markt.
Ergonomisch bedieningsgemak
Als frame- of als bagagedrageraccu: het verwijderen van de accu's voor de laadprocedure thuis werkt zeer eenvoudig. De PowerPacks laten zich ook comfortabele direct aan de fiets opladen.
De Active Line is perfect voor iedereen, die een actief en mobiel leven leidt. De harmonisch-dynamische vermogensafgifte van de aandrijving verschaft een betrouwbare en veilige rijervaring. Een intelligent sensoren-concept garandeert u daarbij altijd een perfect gedoseerde ondersteuning. Optioneel is de aandrijfeenheid ook verkrijgbaar met terugtrapfunctie.
Alle highlights op een rij
Optimale ondersteuning
Het intelligente drie-sensoren-concept van de drive unit zorgt met meer dan 1.000 metingen per seconde voor optimale ondersteuning en harmonische vermogensafgifte.
PowerPacks
PowerPacks voor de Active Line zijn er met 500, 400 en 300 Wh als frame- of bagagedrageraccu. De nieuwe DualBattery verdubbelt de accu-actieradius.
Perfect gedoseerde ondersteuning
Optimale krachtenbalans bij iedere trap – voor touren en meer mobiliteit in het dagelijkse leven tot maximaal 25 km/h.
Attractief
Het ontwerp van de Bosch eBike-systemen werd onderscheiden met de Red Dot Award.
Weinig slijtage
De herkenning van het schakelproces van de Active Line ontziet de componenten en zorgt voor zachte, vloeiende schakelprocessen.
Veelzijdig inzetbaar
De Active Line is te gebruiken in eBikes met derailleur en naafversnelling – bij de laatste naar keuze ook met terugtrapfunctie.
Max. draaimoment
Een hoger draaimoment zorgt voor meer ondersteuning bij het trappen.
Max. aandrijving
Extra ondersteuning voor de fietser zorgt voor comfortabele vooruitgang
Drive Unit
Perfect gedoseerde ondersteuning voor meer mobiliteit in het dagelijks leven tot maximaal 25 km/h.
De Active Line is ook verkrijgbaar met terugtrapfunctie.
Active Line(English)
Unique, flexible and contemporary – with optimal range. This powerful Drive Unit transforms any eBike into a clever everyday companion. Whether you're heading to the movies, out into nature, or around the corner for dinner at friends, Active Line will get you there faster and more relaxed.
The Active Line is perfect for anyone who leads an active, mobile lifestyle. The harmoniously agile power delivery of the dive guarantees a safe, reliable riding experience. An intelligent sensor concept provides the perfect amount of support at all times. The drive unit is also available with the optional backpedal function.
Outstanding support
The intelligent three-sensor concept for the drive unit takes more than 1,000 measurements per second to provide outstanding support and ensures a harmonious power delivery.
PowerPacks
PowerPacks for the Active Line are available with 500, 400 and 300 Wh as frame or rack batteries. The new DualBattery doubles battery range.
Perfect amount of support
Perfect balance of force with every pedaling action – ideal for tours and greater mobility in everyday use, up to a maximum of 25 km/h.
Attractive
The design of the Bosch eBike-systems has already won a Red Dot Award.
Minimal wear
The gear shift detection function of the Active Line preserves the components and ensures an easy, fluid shifting action.
Extremely versatile
The Active Line can be used on eBikes with a derailleur and hub gear system – the latter can also be equipped with a backpedal function.
Max. torque
A higher torque provides extra assistance when pedaling.
Max. drive
Additional assistance ensures the rider makes good progress.
Drive Unit
The right amount of support for greater mobility in everyday use up to a maximum of 25 km/h.
The Active Line is available with a backpedal function.
| | |
| --- | --- |
| Optimum | 100 km |
| Stop + Go | 70 km |
| Slope | 60 km |
| Mountains | 50 km |
Frame
Alu 6061
Fork
SUNTOUR suspension fork "CR-8V", adjustable
Crankset
MIRANDA "Delta"
Bottom Bracket
BOSCH
Colours
white, flashgrey matt
Weight
from 24,5 kg
Drive system
Drive system
BOSCH mid-drive motor "Active", 36 V, 250 W
Battery
BOSCH lithium-ion with BMS, 36 V, 8,33 Ah, 300 Wh
Display
BOSCH, "Purion", 4 modes
Sensor
Pedal Power, Cadence and Speed
Cockpit
Handlebars
ERGOTEC "Stuttgarter", 610 mm, Ø 31,8 mm
Stem
ERGOTEC "Octopus 2", adjustable, Ø 31,8 mm
Handlebar grips
HERRMANS "LineTec"
Saddle
SELLE ROYAL "MILO Plus"
Seat Post
ERGOTEC Patent "SP503", suspended, Ø 31,6 mm, Alu
Brake
Brake
MAGURA "HS11"
Brake lever
MAGURA "HS11"
Wheels
Front-wheel hub
SHIMANO "H-BT3000", 36 L., QR
Rear-wheel hub
SHIMANO "Nexus" 7-speed LL
Wheel rims
MACH "240"
Spokes
MACH 1, 2,0 mm, Niro
Tyres
CST "Xpedium Ampero", 47-559 / 40-622, Reflex
Shifting system
Gears
7
Gear shift
SHIMANO "Nexus", 7-speed
Cassette
SHIMANO, 22 Z.
Chain
KMC "Z610X EPT"
Lights
Front light
AXA "Ecoline 15", LED, 15 Lux, E-Bike
Rear light
AXA "Slim", stationary light
Extras
Mudguards
STRONGLIGHT, Plastic
Rack
VICTORIA "Racktime"
Chainguard
HESLING "Cambio"
Locks
AXA Solid Plus
Kick stands
PLETSCHER "Comp Flex"
Pedals
MARWI "SP-823", Alu, Antislip
Price
1,849.00 € *