e-bike manufaktur 11LF Shimano Alfine 500W New bicycle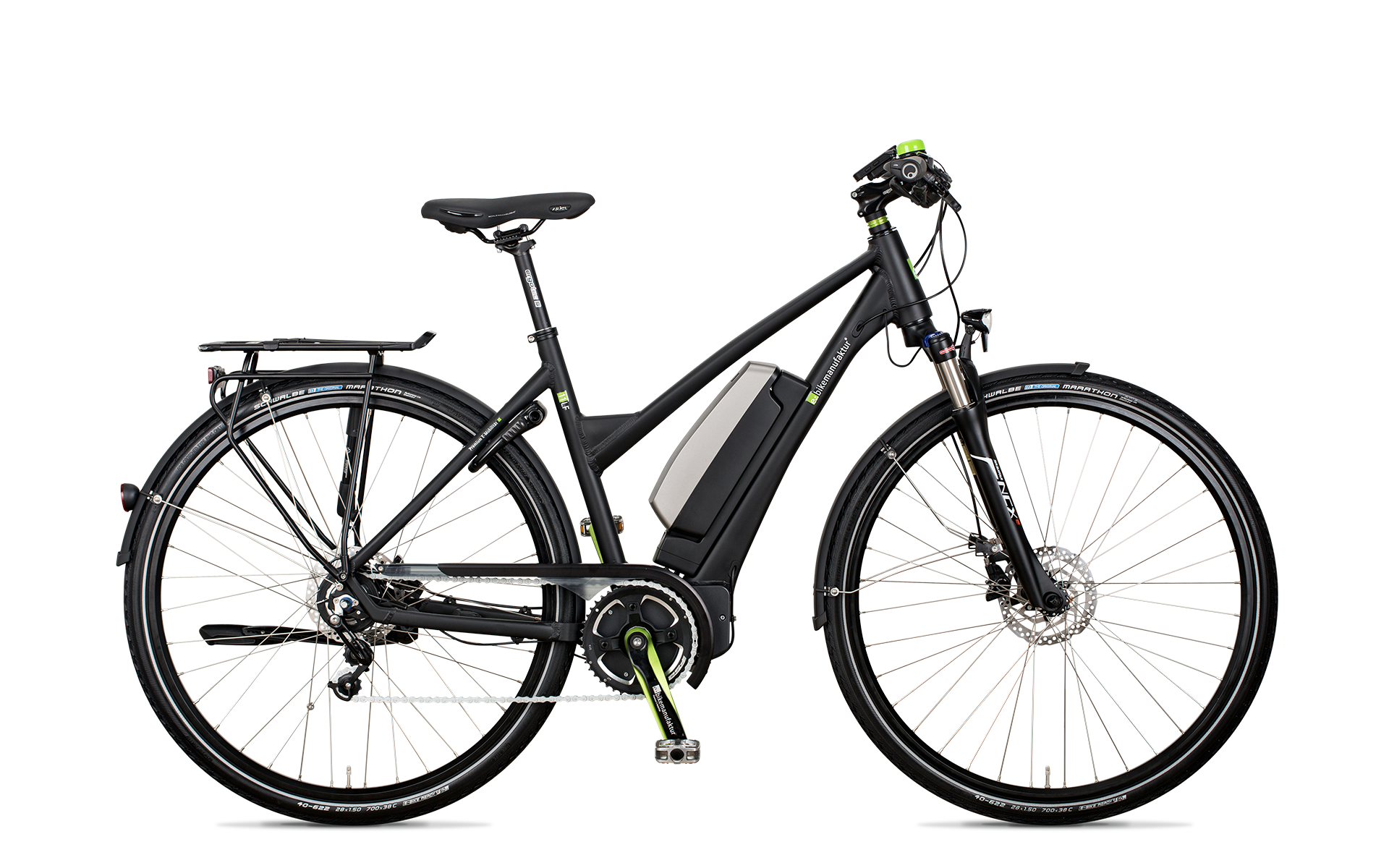 10% cadeau en accessoires sur la valeur de vélo +3ans assurance de vol inclus + 3ans mise à jour(update) inclus .
German engineering  – the Brose motor
De 8-speed 11LF Shimano Alfine is een briljante en betrouwbare dagelijkse e-bike die de perfecte balans tussen gewicht, stijfheid en wendbaarheid bereikt. De efficiënte 8-speed Shimano Alfine hub staat bekend om zijn duurzaamheid en maakt het gemakkelijk om te schakelen terwijl het aanbieden van een uitstekende rijden efficiency. De schorsing vorken en ontspannen zithouding maken dit sportieve nummer echt een comfortabele rit.
Brose Drive System is een divisie van de Brose Group – een innovatieve partner van de internationale auto-industrie. Een specialist in mechatronica en de wereldmarktleider in elektrische motoren in de automotive sector, Brose was de hand liggende keuze voor het ontwikkelen van een aandrijfconcept voor hoogwaardige e-bikes. de fabriek van het bedrijf in Berlijn werd daarom een upgrade naar een e-bike centre of excellence te worden. Op dit moment, Brose biedt een lichtgewicht, compact, stil en zeer efficiënt (bereik van maximaal 180 km) aandrijfsysteem waarmee de "Made in Germany" kwaliteitskeurmerk heeft.
Gemaakt in Duitsland
Het Brose aandrijfsysteem is gebaseerd op een stuurmotor voor auto's, geproduceerd is in zijn miljoenen en voldoet aan de hoogste kwaliteitseisen automobielindustrie. Deze drive is verder ontwikkeld en geperfectioneerd door Brose in de afgelopen jaren om het de perfecte oplossing voor hoogwaardige e-bikes te maken. De motoren worden geproduceerd in de Brose Motorenwerk in Berlijn, waardoor Brose de enige fabrikant die een "Made in Germany" motor voor e-bikes te bieden.
On-board computer
Lichtgewicht en compact | Perfect leesbaarheid (inverse weergave) door grote aantallen en anti-reflecterende coating | Geïntegreerde lichtsensor | Ergonomische en intuïtieve bediening | USB-interface voor het opladen b.v. MP3-spelers of smartphones | Service-interface | Informatie over: geselecteerde supportniveaus activering duwen steun actuele rijsnelheid huidige batterij, lichte wijze, multifunctioneel veld met: tijd, trip afstand trip calorieën, reis gemiddelde snelheid, totale kilometers, totale tijd, pedaalkracht
Motor
Trapondersteuning tot 25 km / h | Duwen steun tot 6 km / h | Gewicht: 3,4 kg | Nominaal vermogen: 250 watt | Koppel: 90 Nm | Midden gemonteerde motor (lage zwaartepunt) | 3 modi: Cruise, Tour en Sport | Hoge resolutie sensoren en intelligente aandrijfbesturing | Vrijwel geruisloze en trillingsvrije trapondersteuning | Lang bereik van maximaal 180 km | Optimale geometrie door middel compacte middenmotor | Geen weerstand tijdens het trappen niet-ondersteunde
Le 8-vitesse 11LF Shimano Alfine est un e-vélo quotidien brillant et fiable qui réalise l'équilibre parfait du poids, de la rigidité et de l'agilité. Le hub efficace de 8 vitesses de Shimano Alfine est renommé pour sa longévité et facilite le changement de vitesse tout en offrant l'efficacité d'entraînement excellente. Les fourchettes de suspension et la position assise décontractée font de ce numéro sportif un parcours vraiment confortable.
Brose Drive System est une division du Groupe Brose – un partenaire innovant de l'industrie automobile internationale. Spécialiste de la mécatronique et leader mondial des moteurs électriques dans le secteur de l'automobile, Brose a été le choix incontournable pour développer un concept d'entraînement pour les e-bikes de haute qualité. L'usine de Berlin a donc été transformée en centre d'excellence en e-bike. Actuellement, Brose propose un système d'entraînement léger, compact, silencieux et hautement performant (jusqu'à 180 km) doté du joint d'étanchéité "Made in Germany".
Ordinateur de bord
Léger et compact | Parfaite lisibilité (affichage inverse) grâce à un grand nombre et revêtement antireflet | Capteur de lumière intégré | Opération ergonomique et intuitive | Interface USB pour le chargement, par ex. Lecteurs MP3 ou smartphones | Interface de service | Information sur les niveaux de soutien sélectionnés, l'activation de l'aide à la poussée, la vitesse d'entraînement actuelle, l'état actuel de la batterie, le mode d'éclairage, le champ multifonctionnel avec: l'heure, la distance parcourue, les calories du voyage, la vitesse moyenne du voyage, le nombre total de kilomètres, le temps total, la puissance de la pédale
Moteur
Support de pédale jusqu'à 25 km / h | Pousser l'aide jusqu'à 6 km / h | Poids: 3,4 kg | Puissance nominale: 250 watts | Couple: 90 Nm | Moteur mi-monté (centre de gravité bas) | 3 modes: Croisière, Tour et Sport | Capteurs haute résolution et commande intelligente de commande | Support de pédale virtuellement silencieux et sans vibrations | Longue portée jusqu'à 180 km | Géométrie optimale des châssis grâce au moteur compact mi-monté | Pas de résistance lors du pédalage non pris en charge
Batterie
La batterie de 500 Wh légère mais de haute performance est facile à retirer pour la recharge et peut être branchée sur n'importe quelle prise "normale". Il faut environ 4 heures pour charger complètement, ce qui offre une portée de jusqu'à 180 km. Le système intelligent de gestion de la batterie assure une longue durée de vie et protège de la surtension ou de la surchauffe.
The 8-speed 11LF Shimano Alfine is a brilliant and reliable everyday e-bike which achieves the perfect balance of weight, rigidity and agility. The efficient 8-speed Shimano Alfine hub is renowned for its durability and makes it easy to change gear while offering excellent drive efficiency. The suspension forks and relaxed sitting position make this sporty number a really comfortable ride.
Brose Drive System is a division of the Brose Group – an innovative partner of the international automobile industry. A specialist in mechatronics and the world market leader in electric motors in the automotive sector, Brose was the obvious choice for developing a drive concept for high quality e-bikes. The company's factory in Berlin was therefore upgraded to become an e-bike centre of excellence. Currently, Brose offers a lightweight, compact, quiet and highly efficient (range of up to 180 km) drive system which boasts the "Made in Germany" quality seal.
Made in germany
The Brose drive system is based on a steering motor for cars, which has been produced in its millions and complies with the highest automotive quality standards. This drive has been further developed and perfected by Brose over the last few years to make it the perfect solution for high quality e-bikes. The motors are produced in the Brose Motorenwerk in Berlin, making Brose the only manufacturer to offer a "Made in Germany" motor for e-bikes.
On-board Computer
Lightweight & compact | Perfect readability (inverse display) through large numbers and anti-reflective coating | Integrated light sensor | Ergonomic & intuitive operation | USB interface for charging e.g. MP3 players or smartphones | Service interface | Information about: selected support levels, activation of pushing aid, current driving speed, current battery status, light mode, multi-functional field with: time, trip distance, trip calories, trip average speed, total kilometres, total time, pedal power
Motor
Pedal support up to 25 km/h | Pushing aid up to 6 km/h | Weight: 3.4 kg | Rated output: 250 watts | Torque: 90 Nm | Mid-mounted engine (low centre of gravity) | 3 modes: Cruise, Tour and Sport | High resolution sensors and intelligent drive control | Virtually silent and vibration-free pedal support| Long range of up to 180 km | Optimal frame geometry through compact mid-mounted engine | No resistance when pedalling unsupported
Battery
The understated but high performance lithium-ion 500 Wh battery is easy to remove for charging and can be plugged into any "normal" socket. It takes around 4 hours to charge fully, which then delivers a range of up to 180 km. The clever battery management system ensures a long lifespan and protects from excess voltage or overheating.
| | |
| --- | --- |
| Frame size | Gents 28″: 50, 55, 60 / Lady 28″: 45, 50, 55 cm |
| Frame | Aluminium 6061, Brose-Interface, superlight |
| Headset | Ritchey Comp Logic Zero, 11/8″ – 1,5″, semi-cadridge |
| Fork | Suntour NCX-D LO Lite, tapered |
| Rear derailleur | – |
| Front derailleur | – |
| Bremse | Shimano BR-M396, hydraulice disc brake |
| Headlight | B&M Lumotec Avy, LED 30 LUX with parking light |
| Rear light | B&M Line LED with parking light |
| luggage carrier | Racktime Shine Evo Tour with IMM-System with spring cap |
| Saddle | Selle Royal Ariel |
| Seat pillar | Humpert Ergotec Atar Aluminium, patent |
| Pedal | Aluminium rubber claw VP-608 |
| Stand | Pletscher Zoom rear stand, adjustable, Aluminium |
| Chain guard | Horn Catena Brose A09, adjustable length, black |
| Fender | SKS Fender with stays with edge protection |
| others | SKS Rookie, Abus Pro Tectic 4960 fram lock, max. weight 140 kg |
| Wight | 24,1 kg with Battery |
| Handlebar stem | Humpert Ergotec Crab2, Alu, a-head, 7°, 31,8 mm clamping |
| Handlebar | Humpert Ergotec Riser, Aluminium, 31,8 mm |
| Handle | Ergon GA30, black,external clamping |
| gearshift lever | Shimano XT SL-M780 |
| Break lever | Shimano M396 |
| Tyres | Schwalbe Marathon Supreme 40-622, reflex |
| Rim | Exal DC19, Aluminium hollow section rim, double eyed |
| Spoke | Niro 2 mm |
| Front hub | Shimano Deore, 36 hole |
| Back hub | Shimano Alfine 8-Gang, 36 hole |
| Sprocket | Shimano Alfine 20 tooth |
| Chain | KMC Z-610RB |
| Inside bearing | – |
| Crankset | Lasco Aluminium 170 mm, 44 Zähne |
| Ladynsmission | 44 tooth: 20 tooth |
| Colour | ebony matt |
Brand : vsf fahrradmanufactur
Type : Electrique
Price : €3099
New bicycles